View updated 2016 article on Ecobob.co.nz

Common green thinking has seen many motorists return to the streets and motorways riding upon a scooters / mopeds that with there small tanks and minimal speeds have a much lesser effect of carbon emissions on the environment and are a dollar saver on the forecourt, not to mention motorcycles in general are coming back into vogue. I thought this was the opportune time to see how just far electric motorcycles and scooters have come since the humble Honda nifty fifty of yesteryears and discuss the alarming rate of radical electric bikes that are coming onto the market in force.
The humble scooter has been a mainstay on New Zealand and Australian roads for many years, with popularity peaking in the oil crisis days of the 70's and 80's, from farms to big city's the scooter could get you from A to B, and were known to run on the smell of an oily rag, penny savers, not penny pinchers. But what I have been amazed and delighted to see is the ever-increasing availability of electric scooters to the New Zealand and Australian market. If ever there was a time to think about electric motoring around your neighbourhood, start thinking about it today.  The following list is a small sample of what is available on the market today, with a few bits and bobs of information about each machine, it should be mentioned I am no way affiliated with any of these brands, simply a stoked enthusiast that is looking to purchase such an electrical steed to feel guilt free breeze on the knees.
Starting with the Stealth Bomber, you can see that the framework is built with mountain bike like aesthetics in mind. The battery has been built into the framework, hiding its power source out of view.  The model is available in a host of colours, and weighs in at a slim 53 kg.
This bike could be ridden of road, or on the street, and boasts a hefty 80 km an hour speed limit from 4.5kW with a 9 speed sequential gear box, impressive indeed. With a price tag of $10,000 its may not appear cheap, but relatively speaking a high-end mountain bike runs at about $8'000 dollars, so for all intensive purposes the $10'000 price tag is a fair price for a lot of fun and guilt free hooning.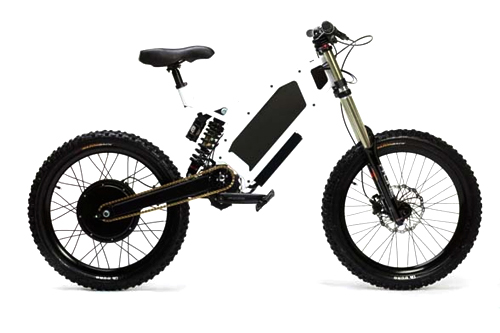 Next on the list is the ever impressive Fonzarelli, are you kidding me? With a name like that it better be cool, ayyyyye. These electric scooters are built around traditional styled mopeds with retro flair. Primarily there marketing tends to target females, but of course, men are welcome to shred the streets on these electric two wheels. There are three different models, each offering different speed ratios, and different battery components I.e portable vs fixed. Each scooters battery can last between 60 - 70 kms in range, and each has a charging time of 3 - 5 hours, with the option of fast charging for particular models. The models feature white wall tyres and chromed out flair, so this isn't the most subtle electric scooter on the market, but then, why should they be.
Zero motorcycles are putting out some of the coolest electric cycles the world wide market has ever seen, hands down. To see is to believe, so checking out the Zero motorcycle site should do the bikes more justice than this write up ever could. Zero has several different models, from new age road bikes to a twist on the traditional road/off road bike. Each bike has a huge amount of power (from 40hp to 67hp!) derived from lithium batteries and can get you far, far away for little cost. This truly is a revolutionary motorcycle, wave goodbye to your loved ones, once you saddle on one these bad boys its going to be difficult to get off. Off course, we down here in the south pacific are still awaiting the arrival of the Zero motorcycles, but when they do arrive, and they will, we should be looking at a price tag of about $16'000 - $18'000 dollars. High price tag? Yes, but when you consider the money you'll be saving at the tank, and the technology you're using, its all relative.  Start cussing for them to hurry up and arrive, fill the swear jar with cash- because when Zero cycles do arrive they will sell out fast.
And so we arrive at the mainstreams take on the electric scooter revolution. BMW have used there technological savvy to up the ante to there already impressive back catalogue of market changing innovations and ideas. Bmw have named the flag ship electric scooter the C evolution, and its not due to drop in the European market until later this year, and hope to see it in Australasia in some point in the near future ( I suspect this will rely heavily on the market reaction in Europe). The C evolution has the same awkward look as some of the more well know motorcycles that BMW has produced in the past, but the safety and power outage this bad boy produces somewhat makes up for the dubious design. The speed can reach a ludicrous 120 kilometres an hour folks, that's 100% pure electricity sitting under your rear end, and 99% terror side splitting lanes in Auckland peak hour traffic. The 220 volt socket will charge around the 4 hour mark, which is impressive. Anything under 8 hours is good, think sleeping time at home with a freshly charged cycle in the morning, and 4 hours puts this bike in the excellent range when it comes to electrical charge time.  With Torque control, 4 different models, and a range of settings (Eco mode, road mode, sail mode etc) the BMW C evolution is going to impress a lot of people. Lets hope the Europeans are as excited about this as we are, and hopefully you'll see them here whizzing around soon.
The amount of innovation that's lies in both the batteries and the design of the aforementioned scooters/motorcycles is truly astounding.  Surely this is only the beginning in what will be a long and fruitful few years of pure electrical motoring prototypes and ideas. The future is here folks, electrical motoring is a viable reality and only with our participation will the market grow, demand an electrical motorcycle today!