Over 37,000 grid-connected solar power systems are currently generating clean renewable energy in Aotearoa. Hey, rest of the world, don't laugh, this is a big number… for New Zealand at least.
For the latest insights on the New Zealand solar industry, we have dug into the data from the New Zealand Electricity Authority (EA) to present all the interesting stuff to you. And along with that, a sprinkling of My Solar Quotes survey results and insights.
How Big Is New Zealand's Solar Industry?
The demand for grid-connected solar power systems in NZ is consistently on the rise and there is real momentum behind the uptake.
A total of 1,403 grid-connected solar power systems were in operation by August 2013 in New Zealand, and this number had spectacularly grown to 37,766 by February 2022.
The rising uptake of solar power in New Zealand can be seen in the graph below.
| | |
| --- | --- |
| Year | The number of solar power systems installed in New Zealand each year |
| 2014 | 3,179 |
| 2015 | 3,933 |
| 2016 | 3,988 |
| 2017 | 4,444 |
| 2018 | 4,355 |
| 2019 | 4,517 |
| 2020 | 4,363 |
| 2021 | 6,569 |
As of February this year, only 1.69% of homes and businesses in New Zealand have solar installed, while literally millions of roofs do without solar power at the moment – but change is imminent.
Why The Big Uptake In 2021?
For decades, the drop in solar prices kept driving its adoption. But 2021 was different.  The big uptake this time was certainly not due to a drop in price. In 2021, solar installers' prices either stayed flat or increased slightly.
My Solar Quotes witnessed a noticeable increase in enquiries during the time of the United Nations climate summit COP26, held in Glasgow, Scotland 2021.  Several reports that came out in 2021, including those from the IPCC and UN, revealed that we are "guaranteed to face more dangerous and destructive extremes" even with fast emissions-reduction measures.  These reports painted a gloomier picture of our future than ever before, making kiwis concerned, and wanting to take action.  
We have also heard from a lot more people that they want energy independence, free from the grid, as well as power security during power outages.  
I wouldn't go as far as saying we have a growing number of 'preppers' in New Zealand, but the uncertainty we have experienced in the last two years is making people store a few more toilet paper rolls, canned food and of course, electricity.
Where's The Growth In The Solar Power Industry?
The growth of New Zealand's solar power market over the last year has been among all system size segments and the emergence of a new segment: solar farms.  
In 2021 from the total of 6,569 systems installed, there were 5,676 residential installations, 266 systems were installed on SMEs, 203 were classed as commercial size and 135 industry size.
We saw the first solar farm sized systems come online during 2021.  The Wairau Valley Solar Farm opened in March, 2021 with a capacity of 1.6MW.  Shortly thereafter, in May 2021, New Zealand's largest solar power farm came online - the  Kapanu Solar Farm with a generating capacity of 2.1MW.
There are now dozens of solar farm projects in the pipeline, including the largest project: the Kōwhai Park solar farm, located at the Christchurch airport which will be a staggering 150MW.
Commercial Solar Is Still A No-Brainer
Commercial solar power systems still make a large portion of the solar uptake in Aotearoa.  This is because the commercial sector is able to use a large percentage of their self-generated solar power during the day, therefore off-setting expensive daytime electricity prices.  Therefore, they will export very little of their solar generation, which is the goal in New Zealand as exported solar power doesn't pay well - an unattractive  9 cents on average.
View some examples of NZ commercial solar power systems here.
The Market For Solar Storage (Lithium-Ion Batteries)
There are now thousands of solar battery storage systems being installed in New Zealand every year. There is currently no entity in New Zealand that records the number of batteries being installed. But in an online survey that My Solar Quotes conducts, we found around 30% of people who installed solar power within the last two years also installed a battery storage system.  
For The First Time Ever, The Price Of Solar Power Is Not Falling
Due to the inescapable effects of the global supply issues, the price of solar has gone up for the first time ever in New Zealand. A 3kW solar power system has gone up by $500*- from $8,000* in 2021 to $8,500* in 2022.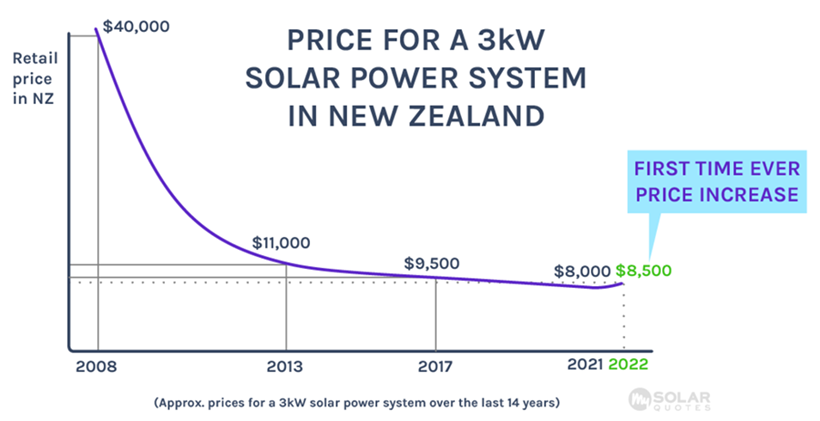 *Rough idea of pricing
See more details on our solar power pricing page.
Will There Be More Growth In The New Zealand Solar To Come
A recent energy industry survey by Freeman Media and Energy News called on industry insiders to predict future solar capacity. They predicted that there will be 500MW of installed solar capacity by 2024 in New Zealand.  As of the 28th of February the capacity is 195MW, therefore it is expected that over the next two years over 300MW of solar may be installed.


There is definitely more growth on the horizon in the New Zealand Solar Industry.  The question is - can the installation companies keep up?

A number of solar installation companies have reported that their customers will have to wait a few extra months to get their solar power system installed.  Along with some delays with components due to manufacturing and shipping falling behind, there is reportedly also a lack of skilled labour.
Now that a few solar farms have been proven in New Zealand, there are dozens in the pipeline waiting to follow.
Over the last year we have not just seen demand for solar power go up, but the momentum behind it seems unstoppable now.  Without subsidies or incentives, solar power still makes a lot of sense for New Zealanders.